2008.10.26 Sunday
Six Degrees of Separations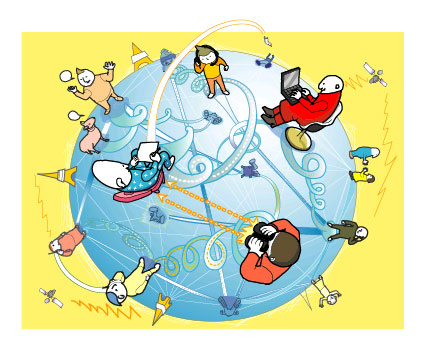 This is a book
"What is a complex network? "
published by Naoki Masuda.
I was in charge of illustrations.
Mr.O,the science editor liked my drawing of uroboros.He associated it with network.
A complex network is learning of conection for human relationships, infection,neurons,etc.
One of the topic in network science is "Six degrees of separation".This refers to the idea that, if a person is one step away from each person they know and two steps away from each person who is known by one of the people they know, then everyone is an average of six "steps" away from each person on Earth.
This book is written about "measuring human relationship networks".For example,the degree of distance between you and this book author,Mr.Matuda is...only degree 3! Because you know me(this website'author),I know science editor,Mr.O, and Mr.O knows Mr.Matuda. You are 3 steps away from Mr.Matuda.
This is exactly "smallworld".