2011.02.02 Wednesday
Sweet describes a concept
"Yōkan" is a Japanese traditional sweet.

yokan
Yokan has a only black square form.It seems jast abstraction.
It's not thing that Children like.
You should enjoy it in a dim room, looking at a jet-black lacquer ware.
In darkness it shines dully as if it takes shadows in the room.
It likes a microcosm.
How beautiful...it is a time to dare to eat it...
You will attach the microcosm with a toothpick and enjoy the taste of microcosm...
It is not only enjoyment of food but also intellectual delight.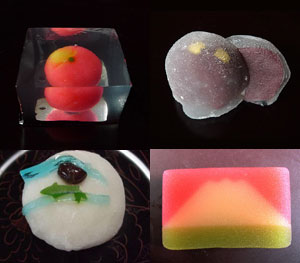 1.cell and cell nucleus???
2.galaxy.....it expressed the stars by gold leaf
3.flow of a river
4.Mount Fuji(Japanese symbol!)
Each Japanese cake has each season,or story,not only yokan.
Although they fit in your palm,sometimes a cake express begriff like science,cosmos,history.
I respect sweets makers who think season forward,and make them by new ingenuity
.