2011.01.30 Sunday
Snakes and ladders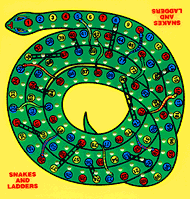 "Snakes and ladders"/100yenshop/Japan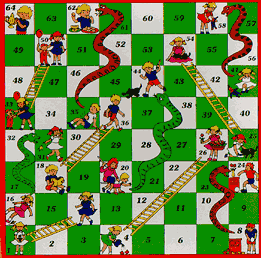 "Snakes and ladders" /1Euro shop/Berlin
Do you know the board game "Snakes and ladders"?
It is a classic children's board game.
It is said that Asian have a spiral cyclical sense of time.At one point the time comes back and the same passes. After death,life begins again and it grows up again and grows old.... In contrast,it is said that Western people have a linear sense of time.The start and end are exist clearly.After death,it goes to heaven or hell.It begins never again.
This game
originated in India
as a game based on morality called Vaikuntapaali or Paramapada Sopanam (the ladder to salvation).
The rule is simple.On the cast of the dice,each player follow a route marked on the gameboard.
They land on the lower-numbered end of the squares with a "ladder", they can move their token up to the higher-numbered square. If they land on the higher-numbered square of a pair with a "snake" , they must move their token down to the lower-numbered square.
It is interesting that such a spiritual game is spread out eventually all over the world.
I bought one in the 1Euro shop in Germany.
Here is my work!
I obsess over snakes!