2009.09.22 Tuesday
Do the "perfect black" exist?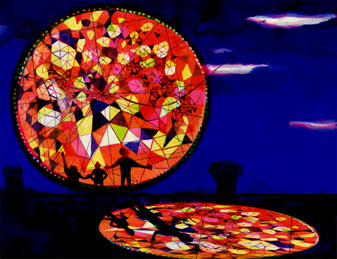 Do the "perfect black" exist?
I majored in textile design in college.
I had to dye many times till I got the color I want."To dye jet black" is difficult.I found it was not perfect when it dried. So I dyed a lot of times.
I use computer to paint now.I love the technique to color pictures over and over like textile ones.But it is easy to get "Perfect black".All I need do is choose "Black 100%"
But ...is it really black?
Black in computer means just the monitor outputs nothing.
It gives off a negative vibe,comparing to feeling what I have been absorbed in black when I am in darkness.
Black absorbs all of the visible spectrum.
By the way,if you think of something black,you may remember "the black hole".
According to the calculations by Dr.Hawking,even the black holl don't have 100% black.