2009.04.29 Wednesday
Find out the law of perception from the vision on the reverse of the eyelids
Have you enjoyed the images reflected in the back of your eyelids?
The complicated geometry images might make you feel euphoria.
From where such images come?
Roger N. Shepard, Professor of Psychology at Stanford University, states a hypothesis that such images come from the law of perception.
He supposes they are images from the construction of sensorium.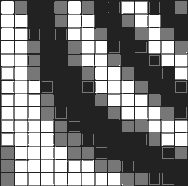 I made this cartoon by software "A New Kind of Science Explorer".
It is an application that can visualize the calculation result.
Do you think this is similer to the image what you can see when you close your eyes?
The images might have a key solve the secret of the law of perception.